Happy Barricade Day! (Is that a thing we can say?)
For those not in the know, 5 June is the day the Les Miz fandom celebrates as Barricade Day: the day on which the ill-fated student rebellion featured in Les Misérables took place (5 and 6 June, 1832). And if you wonder why we choose to celebrate a day of mass death and bloodshed – well, that's just the fandom.
While there have been many incarnations of Victor Hugo's sweepingly epic story since the novel's publication in 1862, the Boublil and Schönberg musical is undoubtedly the most popular, and the most enduring. It's London's longest-running musical, at nearly 33 years old, and it's been seen by over 70 million people worldwide.
Tom Hooper's 2012 film adaptation brought the musical to more audiences than ever before. That was over five years ago, and today, in honor of Barricade Day, we're checking in on some of the cast. Specifically, the world's favorite boy band. Where are the Barricade Boys today? (And we're not talking about the actual band, though they're pretty awesome too and you should totes go see one of their shows.)
Aaron Tveit
Aaron Tveit's latest claim to fame is another Paris-set musical: Moulin Rouge! Based on the Baz Luhrmann film of the same name, the musical starts previews in Boston, Massachusetts, at the end of June ahead of a 22 July opening night. Tveit stars in the musical alongside another Broadway favorite: Karen Olivo.
Killian Donnelly
After a stint playing Charlie Prince in Kinky Boots on Broadway (in which he was fantastic), Killian Donnelly has returned to Les Misérables for the foreseeable future. He's been playing Jean Valjean in London for nearly a year now, and soon he'll be kicking off the show's U.K. and Ireland tour in the same role. In fact, Killian Donnelly is the first Irishman to play Jean Valjean since Colm Wilkinson (the original Jean Valjean). If you're in the London area – and if you hurry – you can still catch Donnelly in Les Misérables at the Queen's Theatre through 9 June.
Fra Fee
You may have seen Fra Fee in The Ferryman: the fastest-selling play in the history of the Royal Court Theatre. It snagged the Olivier for Best New Play, and is now headed to Broadway with the original cast intact. That means Fra Fee will soon be making his Broadway debut alongside his London cast-mates. And did we mention Fee's Ferryman performance won him a WhatsOnStage Award for best supporting actor in a play?
George Blagden
Talk about a winning trajectory. George Blagden went from inebriated revolutionary to King of France in the course of a few years. For three seasons (starting in 2015), he's been playing Louis XIV in what is apparently the BBC's steamiest drama ever: Versailles. (Well, it is about Louis XIV, so what can you expect?) The show has now come to an end, but that hasn't stopped George Blagden from starring in yet another French drama: a dual-language production of Tartuffe at the Theatre Royal Haymarket. You can catch him playing Orgon's spirited son Damis until 28 July.
Alistair Brammer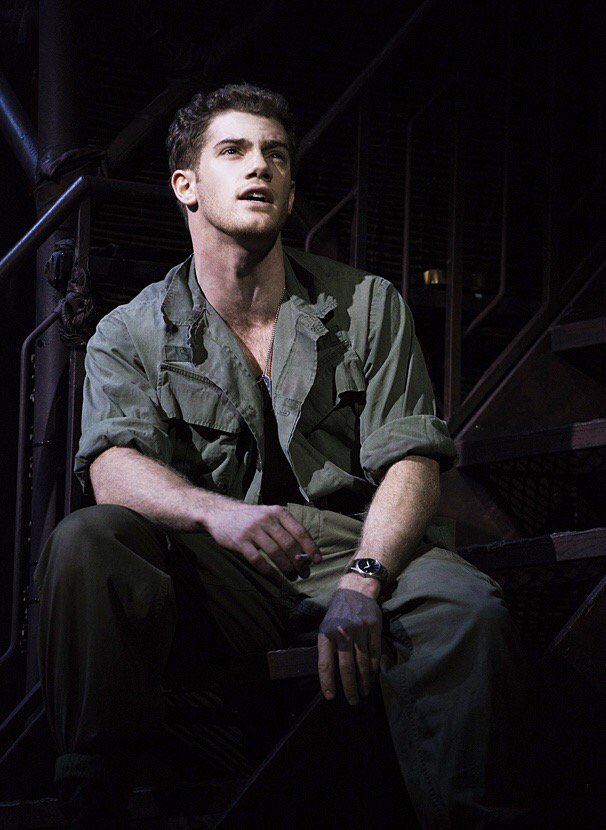 Alistair Brammer is known to London and New York audiences as the heartbreaking Chris to Eva Noblezada's Kim. He performed the role in both the London and Broadway revivals of Miss Saigon, alongside Eva Noblezada, Jon Jon Briones, and Rachelle Ann Go. Now it looks like he's filming a WWII spy thriller, and possibly eating pretzels with Nutella on break. (No, we don't stalk him….)
Hugh Skinner
Another reason to watch the Mamma Mia! sequel: Hugh Skinner will be playing a younger version of Colin Firth. Skinner seems to be more of a screen than a stage actor lately (though he has appeared in shows at the Almeida and Young Vic), and among his various television roles, his most famous may be William in sitcom The Windsors: a soap opera that pokes fun at the Royal Family. He also had a cameo in The Last Jedi.
Iwan Lewis
Ah yes, Iwan Lewis… the Barricade Boy no one ever remembers. We promise you he was in the movie, though! And he's really cool! After appearing in the U.K. tour of Legally Blonde, Lewis decided he was more into directing than acting, so he built a theatre. Boom! OK, there was a little more to it than that: Lewis had to rally public support and find investors, but eventually he convinced enough business owners of the importance of local theatre, and he's now embarking on his first season as artistic director of The Barn Theatre in the Cotswolds. This will warm your heart: in August, the Barn is producing a school edition performance of Les Misérables through its Barn Academy program for young actors.
Stuart Neal
Here's something you probably didn't know: Stuart Neal was in the ill-fated West End production of Lord of the Rings. That was way before Les Misérables, though. Most recently, Neal stepped (or rather, danced) into the spotlight when he took on the lead role of Billy Lawlor in the West End's 42nd Street. He then joined the original cast of The Grinning Man – which, oddly enough, is adapted from a Victor Hugo novel.
Gabriel Vick
Gabriel Vick performed (and played guitar) in the original London production of Once. But he does more than just act, sing, and play various instruments. He's also a playwright, and he just performed his second-ever musical: The Stationmaster, in Bath. Before that, you may have heard of his musical Miss Atomic Bomb (co-written with Alex Jackson-Long and Adam Long) which starred Catherine Tate but didn't get great reviews. Hopefully this new one gets a better reception. We're rooting for you, Gabriel!
Eddie Redmayne
Pssh. We almost forgot Eddie Redmayne. But come on, do you really need an update on him? How about just leaving it at the fact that he's the only millennial male to have won an acting Oscar, and that he's the most perfect Newt Scamander we could have wished for? But in our hearts, he'll always be Marius Pontmercy first and foremost.
Happy Barricade Day! How are you celebrating?